Tanning Bed Discounts & Much More

Gift Certificates:
Having trouble finding the gift for someone? Here at Millennium Tanning, we offer gift certificates for any price range. Call or stop by to get your Gift Certificate today.

Latest Tanning
Promotions in Cookeville

.
Monthly Unlimited Tanning with Millennium Tanning Salon.
$19.95 TTU Discount
Monthly Unlimited • 15% off Other Tanning Beds • Must show valid Tennessee Tech I.D. Only with Millennium Tanning Salon.
T-Shirt Tuesday!
Just come in our store wearing a Millennium Tanning T-shirt and you will get a "FREE Upgrade" to your existing tanning package.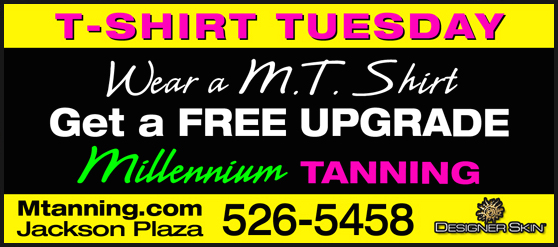 Get a FREE TAN when you text us!
Text: Mtanning
To:

411669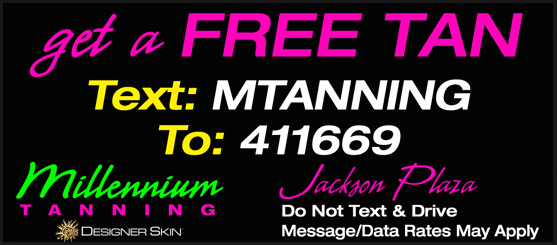 Tanning Bed Specials and Discounts
Cheap prices don't mean everything and especially don't guarantee your best tan! At Millennium Tanning, we strive to fit each client with a tanning package that fits their unique needs. Due to our many offerings, we ask that you come take a tour of our salon so we can find the best pricing and package for you! This ensures that you are spending your hard-earned money in the most effective way possible, tanning in the highest quality beds with the hottest bulbs.
We often offer promotions to our clients, including student discounts! Just be sure to stop in and ask!