Teeth Whitening
What is a tan without having bright white teeth?
Complete your bronzed appearance with a bright white smile! We offer the latest technology in teeth whitening, allowing our clients to achieve their brightest shade of white without an expensive treatment at the dentist.
With our BleachBright system, a brilliant white smile will only take 15 minutes! Come see us to set up an appointment or walk in at the most convenient time for you!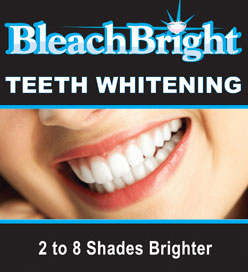 Teeth whitening, sometimes known as "bleaching", is a common dental procedure. According to the FDA, "whitening" restores natural tooth color and "bleaching" whitens beyond the natural color. There are many different ways to do this. With our product BleachBright, we strongly believe that our L.E.D.-accelerated carbamide peroxide trays are the best teeth whitening method.
The carbamide peroxide we use reacts with water to form hydrogen peroxide. Carbamide peroxide has about a third of the strength of hydrogen peroxide. This means that a 15% solution of carbamide peroxide is the rough equivalent of a 5% solution of hydrogen peroxide. The peroxide penetrates pores of the tooth's enamel and breaks down stain deposits in the dentin. Our 15-minute system uses the power of a blue L.E.D. light (BB-Cool Advanced III) to accelerate this process.
Why do teeth stain?
Baby teeth are usually whiter than the permanent teeth that follow. As people age, their teeth gradually darken. Teeth can stain because of the foods that we eat and the bacteria in our mouths. Some antibiotics can cause teeth to stain. Dark or colored liquids like coffee, tea, and wine can also stain teeth.
Causes for stains include, but are not limited to:
Tetracyclines – a common antibiotic
Enamel hypoplasia – an enamel deficiency
Fluorosis – damage to enamel caused by too much flouride
Age – teeth become darker, especially after 50
Tea and coffee
Tobacco
Wine and cola
Other foods dark colored foods
Chlorhexidine – an antiseptic in mouthwashes that treat gingivitis and halitosis